Advantech and Sunforce Collaborate on a Smart Monitoring System for Taiwan's First Micro-biomass Power Plant
1/01/2021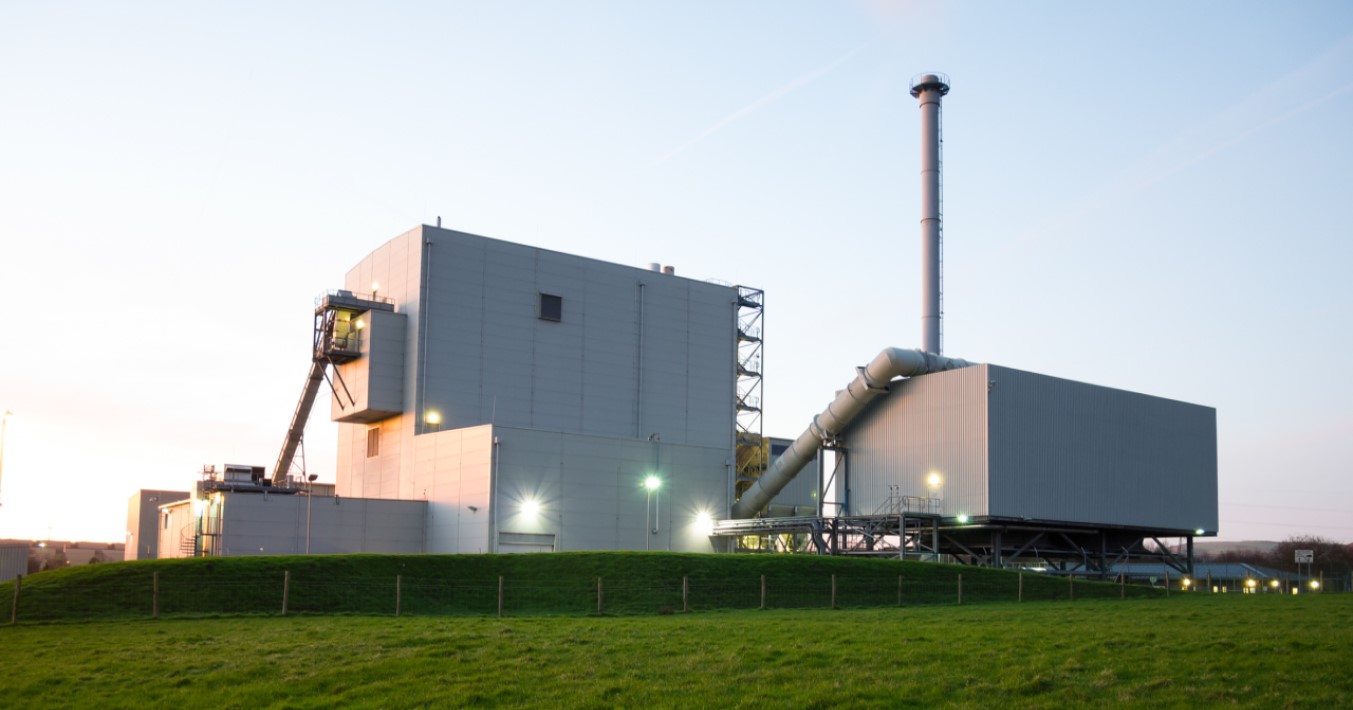 Biomass energy is a renewable fuel resource produced from agricultural/residential waste and other organic matter. This resource generates electricity through burning, gasification, and/or fermentation. Converting organic waste into energy necessitates a variety of processes in hazardous high-temperature environments. In such environments, human errors can lead to equipment damage and industrial accidents. Intelligent monitoring systems help address these issues by managing biomass power plant operation.
Intelligent monitoring systems use IoT and cloud computing. Implementing intelligent monitoring systems necessitates the integration of component subsystems into a coherent whole and the adoption of proper hardware/software tools. Facilities without intelligent monitoring systems are negatively affected by unreliable hardware devices and poorly integrated component systems. Such circumstances limit electricity generation, cause halts in production, and increase management difficulties.
Advantech has developed an intelligent solution for monitoring biomass power plants. This solution comprises a highly reliable industrial computer, a programmable automation controller (PAC) capable of operation in harsh environments, an advanced SCADA graphic control program, and a cloud platform. These systems work in concert to give system integrators the ability to visualize data, upload data to the cloud, and feed data into diverse component systems. Additionally, these solutions enable real-time remote monitoring when installed in power plants.
Sunforce, a SCADA system integrator specializing in remote intelligent control solutions, has over ten years of experience in industrial automation control, intelligent agricultural applications, and green energy/environmental safety monitoring systems. Sunforce was asked to develop a monitoring system for micro biomass power plants due to their extensive system integration experience. Located in Hualien, these green-tech biomass facilities specialize in converting agricultural and residential waste into energy; and are the first of their type in Taiwan. A typical Taiwanese incinerator burns around a thousand tons of waste every day; conversely, this biomass power plant converts 50 tons of waste into energy every day.
As this solution was the first of its kind in Taiwan, its designers were eager to harness IoT and cloud computing solutions. They hoped these solutions would reduce labor expenses and equipment failure rates while increasing power generation. They also wanted to perform scheduling and cascade control to create standard operating procedures aimed at achieving remote monitoring and real-time management. In the future, they will combine artificial intelligence with gradually accumulated operational data to perform intelligent monitoring.
To meet these requirements, Sunforce chose a combination of hardware and software products aimed at enabling automation in the monitoring system's first phase and intelligent monitoring in the second phase. Hardware stability, software inerrability, and solution scalability/reproducibility influenced Sunforce's decision to choose these solutions.
This monitoring system used several Advantech solutions — ADAM-5560KW (a PAC), IPC-610 (an industrial computer), WebAccess/SCADA (a remote monitoring program), and Advantech cloud-based industrial IoT platform.
Here is how the system works: First, ADAM-5560KW, installed at the production facility, collects data from imaging, safety management, and PLC monitoring subsystems. This data is sent over the internet for processing and analysis to IPC-610, which serves as an interface. Data is then uploaded over a 4G network to Advantech cloud platform. This sequence delivers real-time remote monitoring to plant managers.
Advantech's ADAM-5560KW, a highly reliable PAC with a 60 thousand hour MTBF, eases system operation monitoring. In addition, this device has seven I/O slots — providing configuration flexibility to the variety of biomass power plant devices. Unlike consumer grade PCs, Advantech's IPC-610 industrial computer is capable of operation in harsh environments.
This solution leveraged WebAccess/SCADA to support a number of drivers. This support enables this solution to collect data from Advantech's I/O devices and PAC, as well as any third party PLC, I/O module, or controller (e.g., the gasifier used in this project). Similarly, WebAccess/SCADA's dashboard helps visualize production data. Built on an intuitive web-based GUI, it is exceedingly easy to use.
The operator currently uses Advantech's cloud platform to monitor micro biomass power plants. This platform's high adaptability enables the simultaneous monitoring of multiple power plants. In addition, it adapts to third-party software (eg. ERP or raw materials management programs) and can interface with environmental protection authorities, as well as export biomass electricity for sale to Taipower.
The monitoring system's second phase focused on the application of intelligent features aimed at leveraging this solution's strengths. The WebAccess/SCADA Dashboard enables the selection and comparison of critical data points. This in turn enables monitoring system optimization. Additionally, the monitoring system supports MQTT protocols which upload data to the WISE-PaaS platform for AI-driven analysis. This process uses data to combine biomass materials and maximize power production.
Advantech's systems utilize software/hardware products and system frameworks to help users build micro biomass power plants. To this end, power plant parameters, cascading values, and gasifier alarms are modularized and repeatable. Advantech can replace ADAM-5560KW with ECU-1051 if the plant needs additional sensors. ECU-1051 collects and uploads data via MQTT to the cloud.
WebAccess/SCADA : Browser-Based SCADA Software
IPC-610: 4U Rackmount Chassis with Visual Alarm Notification
ADAM-5560KW: 7-slot Micro PAC with Intel® Atom™ CPU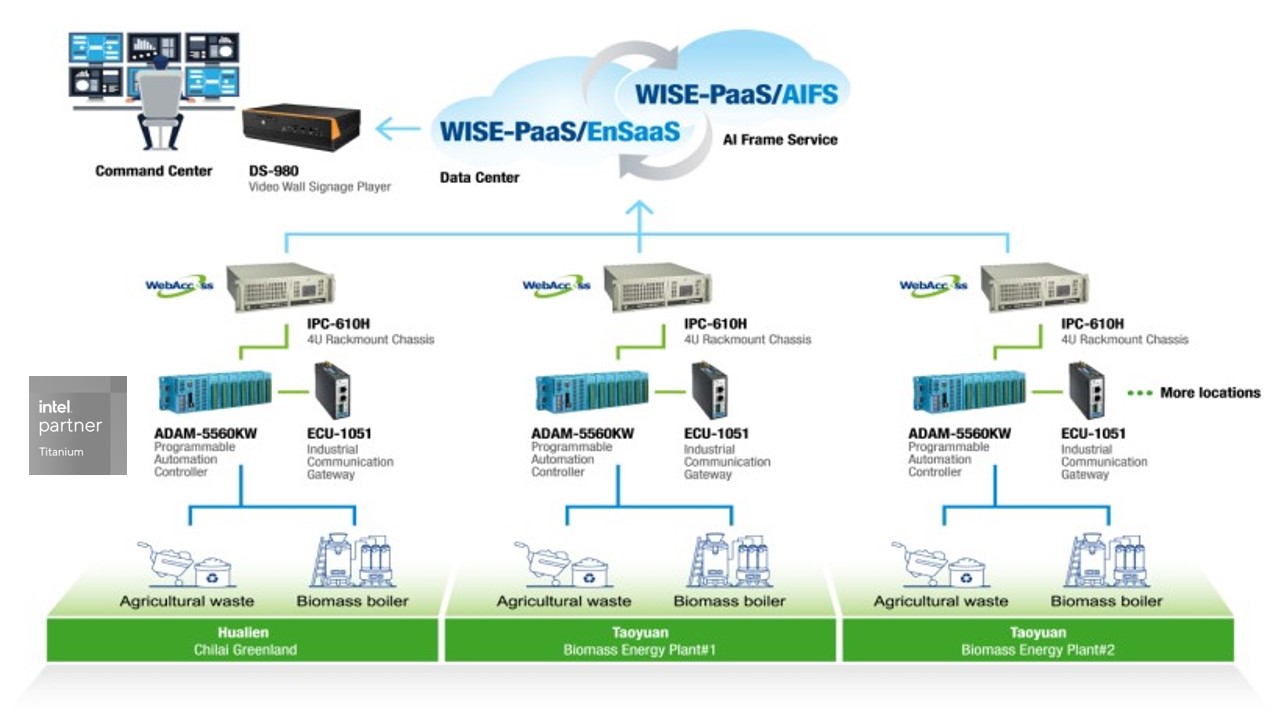 This stable solution enables automation, scales easily, and empowers replication. Advantech's partner, Sunforce, has used this system to develop more than ten SCADA monitoring systems for Taiwan's agricultural authority, the Council of Agriculture. Advantech's modular solutions hastened the project by helping Sunforce reduce the time and labor needed for implementation. The monitoring system co-created by Advantech and Sunforce won the support of the system beneficiary. With the help of Advantech and Sunforce, the company is planning to build a second micro biomass power plant using intelligent monitoring data.