Seize Emerging AMR Market Opportunities with Advantech's SBC MIO-5375
3/03/2021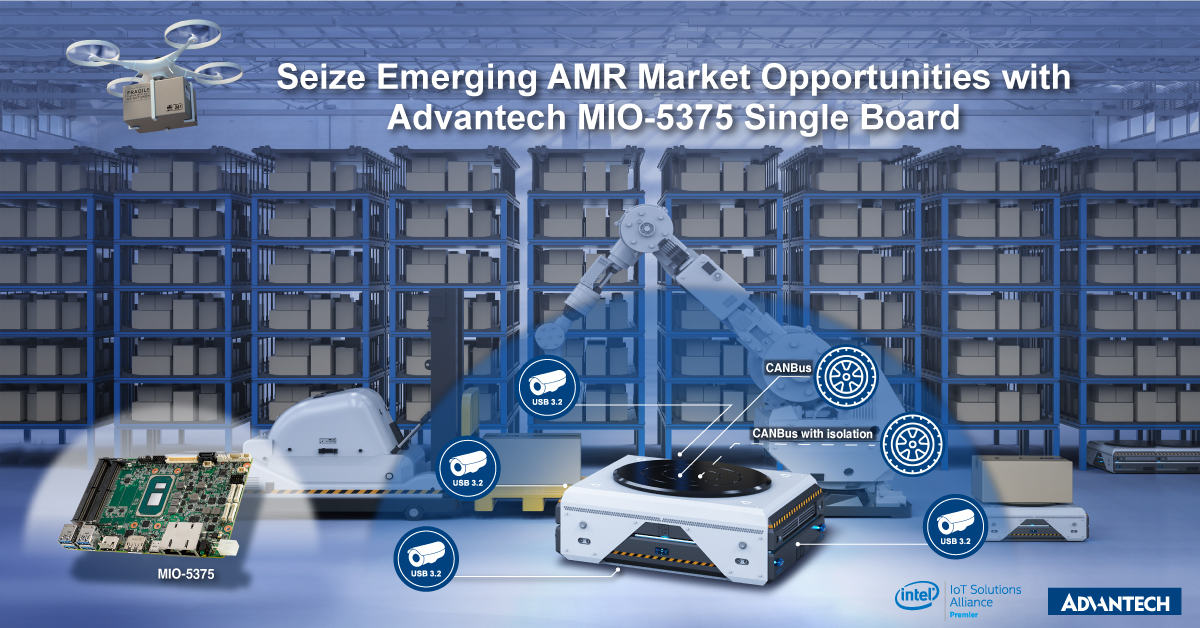 Automated Guided Vehicles (AGV) have been utilized in various applications for a long time. Demands for AGV and autonomous mobile robots (AMR) have rapidly increased due to a number of factors — these include increased use in manufacturing automation and e-commerce warehouses, as well as applications addressing human resource shortages. Research indicates that this market will grow from USD one billion in 2017 to seven billion in 2022[1]. To meet this trend, Advantech is releasing the MIO-5375 for customers seeking early AMR market opportunities.
What is the biggest difference between AGV and AMR?
The difference between AGV and AMR is not immediately apparent. AMR uses new technology and is faster, smarter, and more efficient than AGVs. Similarly, AMR utilizes sensors and powerful on-board computers to understand their operating environments.[2] These features make AMR more agile and adaptable to a myriad of applications. In order to navigate the complicated routes found in facility interiors, AMR devices need powerful embedded single board computers with multiple I/O interfaces. These I/O need to connect with cameras, sensors, control broads, displays, and other end devices.
What are the implementation challenges presented by AMRs?
AMRs require powerful computers
Numerous I/O interfaces are needed to connect with camera & sensors
These devices require excellent heat dissipation capabilities
Mobile robots need to process data in real time
24/7 operation capacity, indoor and outdoor environment
What benefits can Advantech deliver?
Unlike AGV applications, real-time data collection and predictive/reactive capabilities are crucial in AMR applications. AMR requires high performance edge AI computers to quickly process and execute sequential movements. The MIO-5375 is powered by 11th Gen. Intel® Core™ Processors which provides four times better AI capability compare with its previous generation. The MIO-5375 evaluation kit has pre-installed the Edge AI Suite to provide customers a quick AI capability experience. By only 1-click, 3-minute installation the AI environment will be automatically set up for demo. To well manage massive edge devices, the WISE-DeviceOn has also been integrated with the MIO-5375. It dramatically lowered the maintain efforts for customers who are in needs of monitoring and managing massive edge devices remotely and 24/7. Also updates can be conducted over-the-air to prevent security vulnerabilities.
11th Gen. Intel® Core™ Processors with Quad/Dual Cores increase performance by 40%
Fanless for low power consumption design (15W) and high perform with Fan solution (28W)
Dual Channel DDR4-2400 up to 64GB
Expansion for up to 6x high-definition input cameras: 2x GbE and 4x USB 3.2 Gen.2 (10 GT/s)
Onboard CAN Bus interface for motion control
Support commercial 0~60°C and industrial -40~85°C operating temperature for harsh manufacturing environment Easy adoption via Edge AI suite and WISE-DeviceOn for real-time response, self-management, remote control and Firmware OTA update, software APIs under various OS